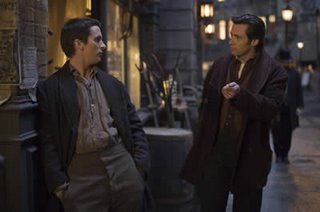 Spent some time on the Apple Quicktime trailers site today and there's some really interesting looking movies coming our way.
First off is The Last Kiss starring Zach Braff. I dug Garden State. It wasn't my favorite movie of that year or anything, but it was terribly entertaining and just made you feel good after watching it. The Last Kiss is associated with the guy who wrote Million Dollar Baby and Crash (Haggis?) and it looks pretty good, plus Tom Wilkinson is in it and I freakin love that guy.
http://www.apple.com/trailers/dreamworks/thelastkiss/trailer-medium.html
The Prestige is Nolan's next movie and he's tapped Christian Bale once again. Even though this means we'll have to wait a little longer for a Batman sequel I think The Prestige will hold up well. It looks pretty amazing and should hopefully get Bale an Oscar nod, not a win but at least a nomination.
http://www.apple.com/trailers/touchstone/theprestige/medium.html